Swansea Astronomical Society Blog
Saturday, March 19, 2011
Eruptive Prominance seen in Ca K-line light and in H-alpha before the eruption on March 19th
Between 11-48 and 11-58 this morning I imaged a large eruptive prominence as it rapidly expanded and faded over a 10 minute period in Ca K-line light.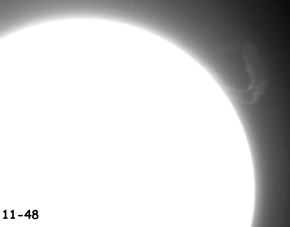 It is most unusual to be able to see prominences in Ca K-line light with the CaK PST but this one was bright.
This animation is featured on
spaceweather.com
on March 19th.
This is a compound image of the 11-51 stage and the solar disk in Ca K-line light combined in Andrew Sprott's Solar layers software:
AR1175 is visible towards the top of the image

I had been imaging the prominence a few minutes earlier in H-alpha light and there was no sign of the eruption which was a rapid, transient phenomenon.
This image was captured at 11-30 in H-alpha light:
This image was captured using the Sweex HD, high dynamic range webcam under Kubuntu Linux earlier in the morning:
Considerable change took place in the structure of the prominence before it erupted.

Steve Wainwright
Archives
December 27, 2009 January 3, 2010 January 17, 2010 January 24, 2010 January 31, 2010 February 7, 2010 February 14, 2010 February 21, 2010 February 28, 2010 March 7, 2010 March 14, 2010 March 21, 2010 March 28, 2010 April 4, 2010 April 11, 2010 April 18, 2010 April 25, 2010 May 2, 2010 May 9, 2010 May 16, 2010 May 23, 2010 May 30, 2010 June 6, 2010 June 13, 2010 June 20, 2010 June 27, 2010 July 4, 2010 July 11, 2010 July 18, 2010 July 25, 2010 August 1, 2010 August 8, 2010 August 15, 2010 August 22, 2010 August 29, 2010 September 12, 2010 September 19, 2010 September 26, 2010 October 3, 2010 October 10, 2010 October 17, 2010 October 24, 2010 October 31, 2010 November 7, 2010 November 14, 2010 November 21, 2010 November 28, 2010 December 5, 2010 December 12, 2010 December 19, 2010 December 26, 2010 January 2, 2011 January 9, 2011 January 16, 2011 January 23, 2011 January 30, 2011 February 6, 2011 February 13, 2011 February 20, 2011 February 27, 2011 March 6, 2011 March 13, 2011 March 20, 2011 March 27, 2011 April 3, 2011 April 10, 2011 April 17, 2011 April 24, 2011 May 8, 2011 May 15, 2011 May 22, 2011 May 29, 2011 June 5, 2011 June 12, 2011 June 19, 2011 June 26, 2011 July 3, 2011 July 10, 2011 July 17, 2011 July 24, 2011 July 31, 2011 August 7, 2011 August 14, 2011 August 21, 2011 August 28, 2011 September 11, 2011 September 25, 2011 October 2, 2011 October 9, 2011 October 16, 2011 October 23, 2011 October 30, 2011 November 6, 2011 November 13, 2011 November 20, 2011 November 27, 2011 December 4, 2011 December 11, 2011 December 18, 2011 December 25, 2011 January 1, 2012 January 8, 2012 January 15, 2012 January 22, 2012 January 29, 2012 February 5, 2012 February 12, 2012 February 19, 2012 February 26, 2012 March 4, 2012 March 11, 2012 March 18, 2012 March 25, 2012 April 1, 2012 April 8, 2012 April 15, 2012 April 22, 2012 May 6, 2012 May 13, 2012 May 20, 2012 May 27, 2012 June 17, 2012 July 8, 2012 July 15, 2012 July 22, 2012 August 5, 2012 August 12, 2012 August 19, 2012 August 26, 2012 September 2, 2012 September 9, 2012 September 16, 2012 September 23, 2012 September 30, 2012 October 7, 2012 October 14, 2012 October 21, 2012 October 28, 2012 November 4, 2012 November 11, 2012 November 18, 2012 November 25, 2012 December 2, 2012 December 9, 2012 December 16, 2012 December 23, 2012 December 30, 2012 January 6, 2013 January 13, 2013 January 20, 2013 January 27, 2013 February 3, 2013 February 10, 2013 February 17, 2013 February 24, 2013 March 3, 2013 March 10, 2013 March 17, 2013 March 24, 2013 March 31, 2013 April 7, 2013 April 14, 2013 April 21, 2013 April 28, 2013 May 5, 2013 May 12, 2013 May 19, 2013 May 26, 2013 June 2, 2013 June 9, 2013 June 16, 2013 June 23, 2013 June 30, 2013 July 7, 2013 July 14, 2013 July 21, 2013 July 28, 2013 August 11, 2013 August 18, 2013 August 25, 2013 September 1, 2013 September 8, 2013 September 15, 2013 September 22, 2013 September 29, 2013 October 6, 2013 October 13, 2013 October 27, 2013 November 3, 2013 November 10, 2013 November 17, 2013 November 24, 2013 December 1, 2013 December 8, 2013 December 15, 2013 December 22, 2013 December 29, 2013 January 5, 2014 January 12, 2014 January 19, 2014 January 26, 2014 February 2, 2014 February 9, 2014 February 16, 2014 February 23, 2014 March 2, 2014 March 9, 2014 March 16, 2014 March 23, 2014 March 30, 2014 April 6, 2014 April 13, 2014 April 20, 2014 April 27, 2014 May 4, 2014 May 11, 2014 May 25, 2014 June 1, 2014 June 8, 2014 June 15, 2014 June 22, 2014 June 29, 2014 July 6, 2014 July 20, 2014 July 27, 2014 August 3, 2014 August 10, 2014 August 17, 2014 August 24, 2014 August 31, 2014 September 7, 2014 September 14, 2014 September 21, 2014 September 28, 2014 October 5, 2014 October 12, 2014 October 19, 2014 October 26, 2014 November 2, 2014 November 9, 2014 November 16, 2014 November 23, 2014 November 30, 2014 December 7, 2014 December 14, 2014 December 21, 2014 December 28, 2014 January 4, 2015 January 11, 2015 January 18, 2015 January 25, 2015 February 1, 2015 February 8, 2015 February 15, 2015 February 22, 2015 March 1, 2015 March 8, 2015 March 15, 2015 March 22, 2015 March 29, 2015 April 5, 2015 April 12, 2015 April 19, 2015 April 26, 2015 May 3, 2015 May 10, 2015 May 17, 2015 May 24, 2015 May 31, 2015 June 7, 2015 June 14, 2015 June 21, 2015 June 28, 2015 July 5, 2015 July 12, 2015 July 19, 2015 July 26, 2015 August 2, 2015 August 9, 2015 August 16, 2015 August 23, 2015 August 30, 2015 September 6, 2015 September 13, 2015 September 20, 2015 September 27, 2015 October 4, 2015 October 11, 2015 October 18, 2015 October 25, 2015 November 1, 2015 November 8, 2015 November 22, 2015 November 29, 2015 December 20, 2015 December 27, 2015 January 3, 2016 January 10, 2016 January 17, 2016 January 24, 2016 January 31, 2016 February 7, 2016 February 14, 2016 February 21, 2016 February 28, 2016 March 6, 2016 March 13, 2016 March 20, 2016 March 27, 2016 April 3, 2016 April 10, 2016 April 17, 2016 April 24, 2016 May 1, 2016 May 8, 2016 May 15, 2016 May 22, 2016 May 29, 2016 June 5, 2016 July 10, 2016 July 17, 2016 July 31, 2016 August 7, 2016 August 14, 2016 August 21, 2016 August 28, 2016 September 4, 2016 September 11, 2016 October 2, 2016 October 9, 2016 October 16, 2016 October 30, 2016 November 6, 2016 November 13, 2016 November 20, 2016 November 27, 2016 December 4, 2016 December 11, 2016 December 18, 2016 December 25, 2016 January 1, 2017 January 8, 2017 January 15, 2017 January 22, 2017 January 29, 2017 February 5, 2017 February 12, 2017 February 19, 2017 February 26, 2017 March 5, 2017 March 12, 2017 March 19, 2017 March 26, 2017 April 2, 2017 April 9, 2017 April 16, 2017 April 23, 2017 April 30, 2017 May 7, 2017 May 14, 2017 May 21, 2017 May 28, 2017 June 4, 2017 June 11, 2017 June 18, 2017 July 2, 2017 July 9, 2017 July 16, 2017 July 23, 2017 August 6, 2017 August 13, 2017 August 20, 2017 August 27, 2017 September 10, 2017 September 17, 2017 September 24, 2017 October 1, 2017 October 8, 2017 October 15, 2017 October 22, 2017 October 29, 2017 November 5, 2017 November 12, 2017 November 19, 2017 November 26, 2017 December 3, 2017 December 10, 2017 December 24, 2017 December 31, 2017 January 7, 2018 January 21, 2018 January 28, 2018 February 4, 2018 February 11, 2018 February 18, 2018 February 25, 2018 March 4, 2018 March 18, 2018 March 25, 2018 April 8, 2018 April 15, 2018 April 22, 2018 April 29, 2018 May 6, 2018 May 13, 2018 May 20, 2018 May 27, 2018 June 3, 2018 June 10, 2018 June 17, 2018 June 24, 2018 July 1, 2018 July 8, 2018 July 15, 2018 July 22, 2018 August 5, 2018 August 12, 2018 August 19, 2018 August 26, 2018 September 2, 2018 September 9, 2018 September 23, 2018 September 30, 2018 October 7, 2018 October 14, 2018 October 21, 2018 October 28, 2018 November 4, 2018 November 11, 2018 November 18, 2018 December 2, 2018 December 9, 2018 December 16, 2018 December 30, 2018 January 6, 2019 January 13, 2019 January 20, 2019 January 27, 2019 February 3, 2019 February 10, 2019 February 17, 2019 February 24, 2019 March 10, 2019 March 17, 2019 March 24, 2019 April 7, 2019 April 14, 2019 April 21, 2019 April 28, 2019 May 5, 2019 May 12, 2019 June 2, 2019 June 9, 2019 June 16, 2019 June 23, 2019 July 7, 2019 July 14, 2019 July 21, 2019 August 11, 2019 August 25, 2019 September 8, 2019 September 15, 2019 September 22, 2019 October 6, 2019 October 13, 2019 October 20, 2019 October 27, 2019 November 3, 2019 November 10, 2019 November 17, 2019 November 24, 2019 December 1, 2019 December 15, 2019 December 22, 2019 December 29, 2019 January 5, 2020 January 12, 2020 January 19, 2020 February 2, 2020 February 9, 2020 February 16, 2020 February 23, 2020 March 1, 2020 March 8, 2020 March 15, 2020 March 22, 2020 March 29, 2020 April 5, 2020 April 12, 2020 April 19, 2020 April 26, 2020 May 3, 2020 May 10, 2020 May 17, 2020 May 24, 2020 May 31, 2020 June 7, 2020 June 14, 2020 June 21, 2020 July 5, 2020 July 12, 2020 July 19, 2020 July 26, 2020 August 9, 2020 August 30, 2020 September 6, 2020 September 13, 2020 September 20, 2020 September 27, 2020 October 4, 2020 October 11, 2020 October 18, 2020 November 1, 2020 November 8, 2020 November 15, 2020 November 22, 2020 November 29, 2020 December 6, 2020 December 13, 2020 December 20, 2020 December 27, 2020 January 3, 2021 January 10, 2021 January 17, 2021 January 24, 2021 January 31, 2021 February 7, 2021 February 14, 2021 February 21, 2021 February 28, 2021 March 7, 2021 March 14, 2021 March 21, 2021 March 28, 2021 April 4, 2021 April 11, 2021 April 18, 2021 April 25, 2021 May 2, 2021 May 16, 2021 May 23, 2021 May 30, 2021 June 6, 2021 June 13, 2021 June 27, 2021 July 4, 2021 July 11, 2021 July 18, 2021 July 25, 2021 August 1, 2021 August 8, 2021 August 15, 2021 August 22, 2021 August 29, 2021 September 5, 2021 September 19, 2021 October 3, 2021 October 10, 2021 October 17, 2021 October 24, 2021 October 31, 2021 November 7, 2021 November 14, 2021 November 21, 2021 November 28, 2021 December 5, 2021 December 12, 2021 January 2, 2022 January 9, 2022 January 16, 2022 January 23, 2022 January 30, 2022 February 6, 2022 February 13, 2022 February 20, 2022 February 27, 2022 March 6, 2022 March 13, 2022 March 20, 2022 March 27, 2022 April 3, 2022 April 10, 2022 April 17, 2022 April 24, 2022 May 1, 2022 May 8, 2022 May 15, 2022 May 22, 2022 May 29, 2022 June 5, 2022 June 12, 2022 June 19, 2022 June 26, 2022 July 3, 2022 July 10, 2022 July 17, 2022 July 24, 2022 July 31, 2022 August 7, 2022 August 14, 2022
Subscribe to Posts [Atom]